BEST RAKSHABANDHAN SAREE COLLECTION FOR YOUR SISTER THIS YEAR:
This year we bring our best collection of sarees you can wear on RAKHI we all are waiting to celebrate. In this pandemic, why should we not celebrate our favorite festival of siblings at home? We won't break any lock-down rules but we can still celebrate right? How? We all are at our home with our family at this moment, for the few's who aren't able to be wit their families they can simply be with them on Rakhi Day virtually (But still can get glam up as much as you can)…
Let's check our hand-picked collection we have gathered for this day!!!

1. FOR THE ONE WHO LIKES IT SIMPLE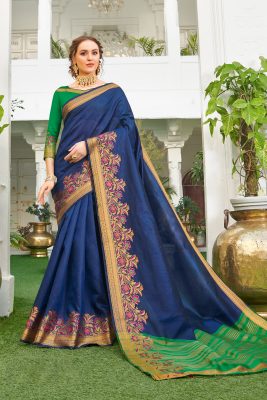 This perfect navy blue shade saree is for those who wants simplicity and elegance at the same time. This Handloom saree is crafted by us beautifully on Silk fabric with Chitt pallu in parrot green shade and contrasted border weaved with golden-pinkish zari.
Buy now from our website-
2. FOR THE ONE WHO LOVES PATOLA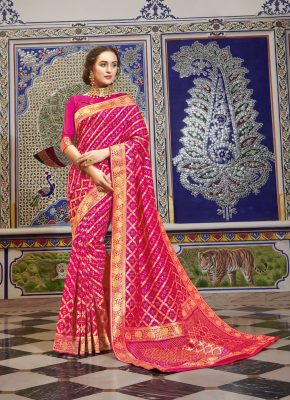 A perfect combo of grace and elegance!!! This pure silk base hot pink colored patola silk saree is a perfect attire for this Rakhi day. Embellished with Golden zari work all along till the pallu and border makes it look heavenly.
Buy now from our website- https://sangamprints.com/product/silk-patola-pink-color-handloom-silk-party-wear-saree-heavy-jacquard-work/
3. THE ONE WHO IS OBSESSED WITH LINEN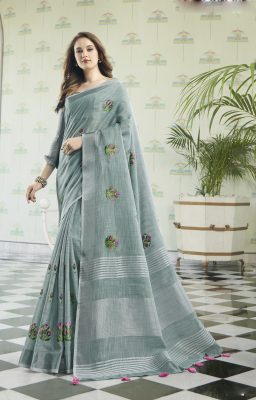 The modern saree trends includes Linen so quickly that young women are accepting this amazing fabric very much. We personally love the fabric and the design we have created just for you. Not just the pastel colors of these AMYRA sarees are beautiful but the tassels and embroidery puts extra charm!!!
Buy now from our website- https://sangamprints.com/?product_cat=&s=Summer+special+&post_type=product
4. THE WOMEN IN RED (OR THE ONE WHO LOVES RED!!!)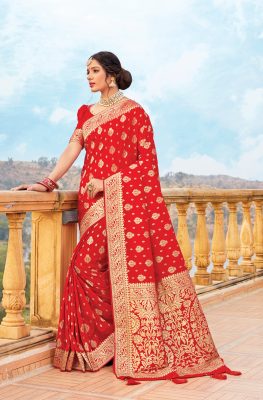 Red is a symbolic color of Love, of marriage and many other things. You can never go wrong when it comes to a Red saree that too in Pure Banarasi Silk fabric. We have named this saree 'RED ROSE' as it is attractive and pretty just like a rose. Gives you an oomph with sophistication! and… Don't you forget the tassels at the end of the pallu.
Buy now from our website- https://sangamprints.com/?product_cat=&s=red+rose&post_type=product
5. THE TOUCH OF COTTON, SATIN, PRINT AND… OF-COURSE PINK!!!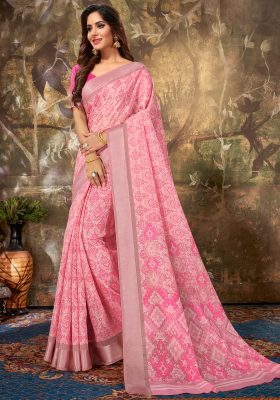 "Simplicity is the ultimate sophistication."- as they say. Well Who doesn't look pink? The satin border gives a soft and shinny look to your whole attire. Put your hair down, grab a beautiful pair of Jhumka and you're all ready to celebrate!!!
Buy now from our website- https://sangamprints.com/?product_cat=&s=minaxi&post_type=product
6. FOR THE BANDHANI LOVERS!!!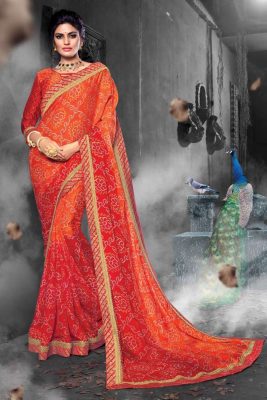 We all secretly love Bandhani sarees as it is from Gujarat, Rajasthan, Punjab and Sindh regions of India. Bandhani is also known as Bandhej Saree. The art of Bandhani is a highly skilled process. The technique involves dyeing a fabric which is tied tightly with a thread at several points, thus producing a variety of patterns. We have this saree on Chiffon fabric for your with Lace on the borders.
Buy now from our website- https://sangamprints.com/?product_cat=&s=sukanya&post_type=product
These are our hand-picked collection for you this season for Rakshabandhan 2020. If you want to see more visit the link – https://sangamprints.com/shop/